I just finished stocking some more OSFM (One-Size-Fits-Most, for the uninitiated) pocket diapers, including such beauties as this one: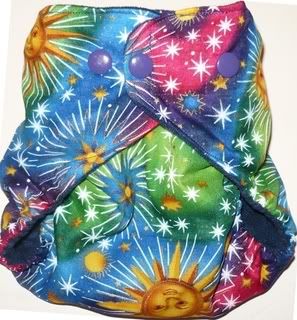 Now some people love one size diapers, and some hate them. Personally, I created this pattern based on fitteds that fit my daughter to a T. One of the biggest arguments against One Size diapers is that they are too bulky on newborns, however, I have seen my design on a newborn. The baby in question was 10 lbs at birth and already too chubby to fit the crossover snap, so this is how I know they will fit pretty well starting at about 8-ish lbs. Also, in this picture you will notice that the daddy in question didn't use the snap down function for the shorter rise, so he just flopped the front of the diaper over the front. Also, he chose the birdseye cotton insert, which is a little bulkier than the microfiber insert I offer.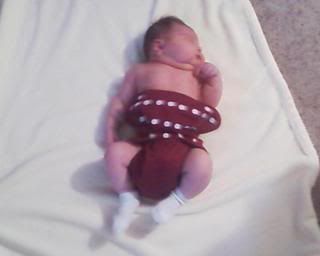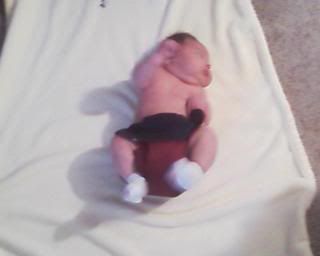 Why do
I
like one size diapers?
- For the most part, there is no need to buy more diapers as your baby grows, since the diapers grow with them.
- Easy to switch diapers between your toddler and your newborn
- Buying a stash of OSFM diapers is cheaper than buying a stash of NB, then a stash of SM, then MD, then LG, and maybe even XL, so it saves money in the long run, which is one of the reasons we're using cloth, right?
Sanity, of
Simply Sanity Creations