And the winner is...karen from Cloth Diaper Club! Congratulations!
True Random Number Generator
65
I would like to introduce you to Stacy and My Cute Genes Green Genes diaper and cover. A completely waterproof digital camo cover with personalized name tape. This is My Cute GenesMCG'S most popular design and customers love to get personalized name tapes so that baby can "represent!" Camo covers look cute on girls and boys! You don't have to be in the army to dress up your cutie like the cutest soldier on the block! These covers are made from brand new ACU fabric, paired with gray PUL, and outfitted with matching loop fabric that can be adorned with a "U.S. Army" or last name tape. I love how she pairs the camo with bright colored shoes and hair accessories for the little girl camo look.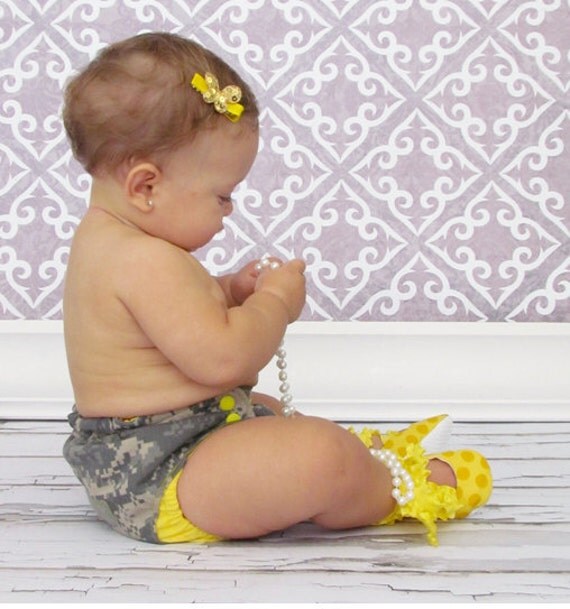 One of the most compelling aspects of MCG's diapering system is the wipe-clean cover. During a diaper change, the only part of the diaper which needs to be changed is the soaker pad. Unless the cover has been soiled. So one cover can last through many diaper changes. Also, an extra layer of PUL is sewn to the outer fashion layer (a cotton print, denim, corduroy, etc.) at the leg holes to make MCG's cover waterproof inside and out!"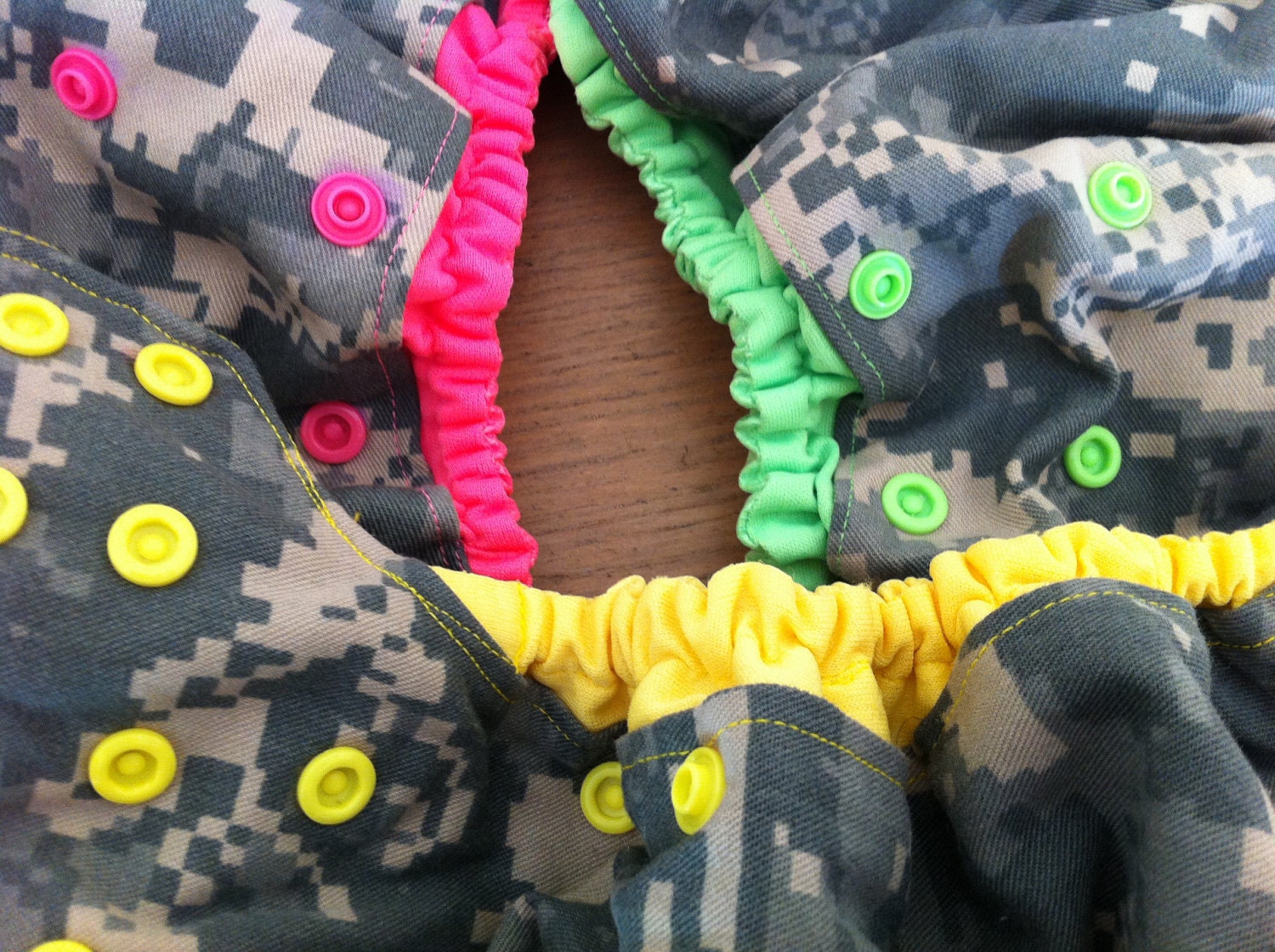 Another fantastic feature of MCG's covers AND soaker pads is that they are one-size. On the cover, 2 rows of sockets and 1 row of studs create an adjustable or snap-down rise. the smallest setting fits babies 5-14lbs. The middle setting fits babies 12-24lbs, and the largest setting fits babies 20-32lbs.




In this way, a baby can be diapered from birth to potty training with only 3 or 4 covers!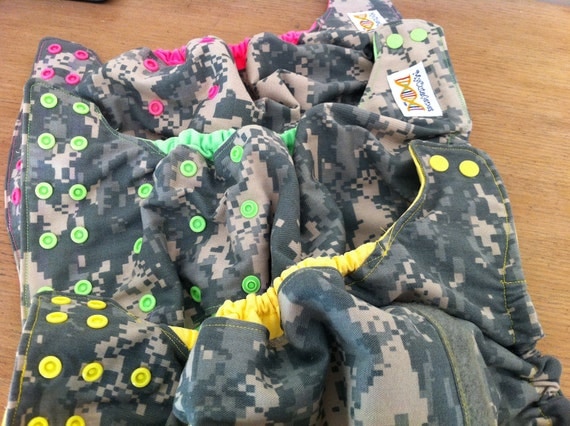 Stacy told me a little bit about how she got started making diapers,
"When I decided to cloth diaper, I got some commercial diapers for Christmas, but I wasn't satisfied with their function and quality. I wanted to design the most ideal diaper for me and my baby, with all the features I was looking for and top quality. I started experimenting with sewing cloth diapers while on maternity leave waiting for my daughter to be born.
I loved the idea of hybrids, so I modeled my design after flips. A wipe-clean cover that does not have to be changed, with lay-in inserts. Flaps at the front and back hold in an insert that can be shaken out into a diaper pail at each change, no need to touch! I made covers with solid colors and prints, played with snap color combinations, and adjusted snap placement for sizing through trial and error. 6 months later, I had perfected my design and opened my Etsy shop on Mothers Day 2011."




"I started My Cute Genes because I love cloth diapers. I wanted to promote and advocate for cloth diapers. MCG diapers are an easy, convenient, economical, and super cute cloth diapering system option that I felt was not yet available on the market. The best part of My Cute Genes is that you can choose a special fabric or appliqued logo/flag/embellishment that lets your baby "represent" what is most important to you – what's in YOUR cute genes!"
Stacy has generously agreed to giveaway a cover and insert, so the lucky winner will receive both parts of the system to make a complete diaper! You do not have to choose the camo Green Genes cover, you may choose any non custom cover from her shop if you win. Follow the entry directions below for your chances to win our LAST GIVEAWAY of 2011!
-
Follow this blog, etsyclothdiapers.blogspot.com, via Google friend connect. If you are already a follower, just leave a comment saying you already follow. Otherwise, leave a comment saying you are a new follower.

Additional optional entries (leave a separate comment for EACH of the following that apply)
(be sure that you are signed in or leave a way to contact you in each comment):
- Tweet about the giveaway (limit one per day) - be sure to use @etsyclothdiaper in your tweet
-Post about the giveaway on your own blog.
Giveaway closes at 11:59pm EST on December 28th.
Winner will be announced on this blog on Thursday, Dec. 29th.
A random blog comment number will be selected using random.org. You MUST comment on this blog post to be entered, and have contact info in your profile. Each entry entry must be its own comment. If you combine entries into one comment, it will only count as one entry. Winning entries will be validated, and you MUST do the required entry to have any additional entries be valid. Thank you for entering!