ONE of the first things people ask about cloth diapers is:
What do you DO with the dirty diapers?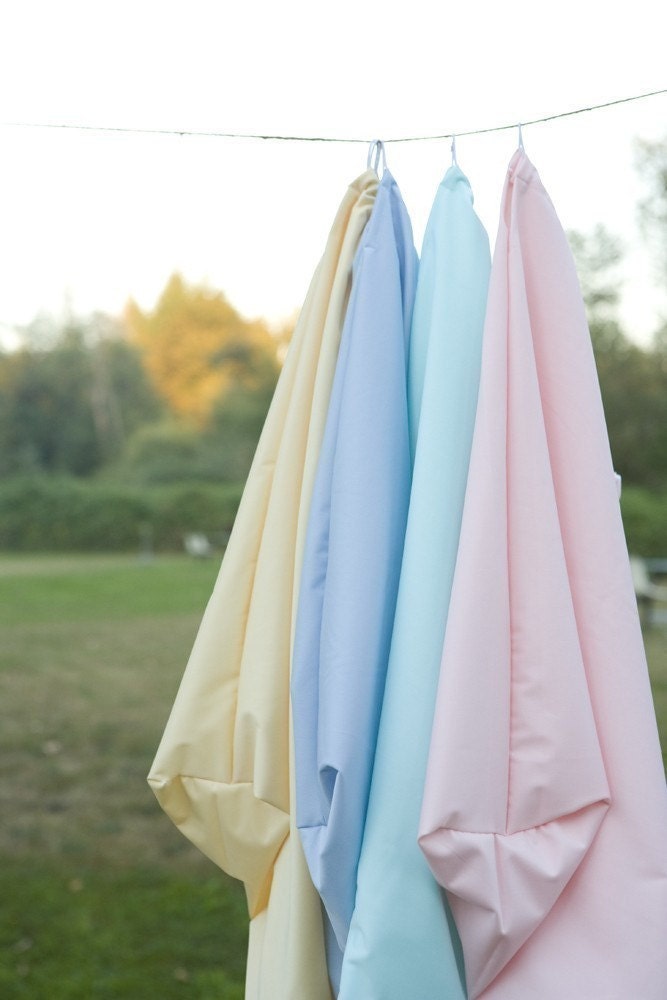 The answer to that is a Diaper Pail Liner. Some people use empty trash cans, plastic grocery bags or small wet bags, but the pail liner is the easiest and most convenient ways to store the dirty diapers. Not only do they come in a plethora of colors, but diaper pail liners also help to reduce smells. And since they are reusable, they eliminate the additional waste created with the use of grocery and trash bags.

Made with PUL fabric, which stands for "polyurethane laminated," these bags hold in wet diapers and their odors. They are waterproof in the sense that they will hold dampness and wet diapers without leaking, not in the sense of "they can hold 7 gallons of water." Easy to use, our diaper pail liners have with an elastic cording, they easily stretch over the edge of a diaper pail or trash can.


How do you USE a diaper pail liner?

Simply stretch the elastic cording over the edge of a trash can. Some people use conventional diaper pails for cloth diapers. Often times, diaper pail liners need to be custom ordered to fit these cans.
The other option for a diaper pail is a simple kitchen trash can. A lid is a major plus here. You can use a 13 gallon can or even smaller. We use a 7 gallon can, similar to this one:
http://www.sterilite.com/SelectProduct.html?id=470&ProductCategory=210§ion=3
It is low profile, holds 20-24 diapers, fits right next to the toilet and doesn't take over the powder room. Placing it here allows us to clean the diapers with a diaper sprayer and place them directly into the diaper pail. Our washing machine is adjacent to the powder room, so this makes for a quick and easy job. We do use a hanging wet bag upstairs to store the "dirties" in, but always bring them downstairs to the diaper pail before washing.

You can buy the pail liner or the diaper pail first, each way is fine. It can be easier to buy the pail liner first, and then take it with you to shop for a diaper pail or trash can. This eliminates hours of searching and waiting for a custom bag. Just remember to buy a trash can with a lid. It keeps the smells down.

How do you WASH a pail liner?


To wash the diapers, just remove the lid, lift the diaper pail liner out of the can, and turn it inside out over the washing machine and let the diapers fall in. Toss the pail liner in with your diapers. Wash and dry with your diapers. It's that easy.


How MANY diaper pail liners do you need?


Another pail liner tip I learned is to buy 2 diaper pail liners. Let's face it, a wash routine can take hours. By the time you rinse the diapers, wash them 2 times, wait for them to dry, and read Parenting magazine, feed the family, nurse the baby, vacuum and mop the floor, you can have 3 or 4 dirty diapers piling up (on your freshly cleaned floors), just waiting for a clean pail liner to come out of the dryer.


I'm sorry – did you say you TRAVEL with cloth diapers?

The other awesome use for 2 pail liners is travel. Yes, I said it. TRAVEL. We think nothing of traveling to Grandma's house or getting on an airplane with cloth diapers. The hardest part for me is storing the abundance of clean AND dirty diapers in my car, at Grandma's house or in my luggage. (Public Disclaimer: I only put clean diapers in the luggage – although I always laugh when I see an inspected tag on the suitcase with the diapers! Ha! Wonder what that poor TSA agent was thinking while looking at a bag of diapers!)

Having 2 pail liners can make traveling with baby and cloth diapers easier. And a side note: they make completely awesome and HUGE beach bags for pool and beach trips! Wet towels and suits all go in until we find somewhere to wash!

Diaper Pail Liners are indispensible in the cloth diapering world and can easily be found for under $20.00. For the benefits, it's worth the investment.