Where did you get the name for your shop?
Sweet Bobbins
is made up of 3 main people, husband and wife team Michael, Angela and our cousin, Rene.
Sweet Bobbins is actually a funny name. My niece, who was living with us at the time, saw a little boy getting a spanking in a parking lot. She asked me what was going on. I said the little boy must have been very naughty to get a spanking in a parking lot. She looked up at me with her giant brown eyes and said with all the sweetness a 3 year old can muster in the midst of fear, "Oh Auntie, please don't spank my Sweet Bobbin!!"
I'd been looking for a shop name and while relaying the story to Grandma, I thought – Oh, perfect! Sweet Bobbins! It's a great reference to sewing and it's a family story- we all still laugh about it to this day!
Is it big business or a hobby?
These days, it's becoming a big business. We just hit our 1800th sale on Etsy this week. We have a few local moms that help Angela out with cutting and organizing. We are currently in 10 boutiques in 4 countries! We are still running out of our homes, mainly Michael and Angela's house in the Seattle area, with Rene making nursing covers and diaper pail liners in South Carolina in her guestroom.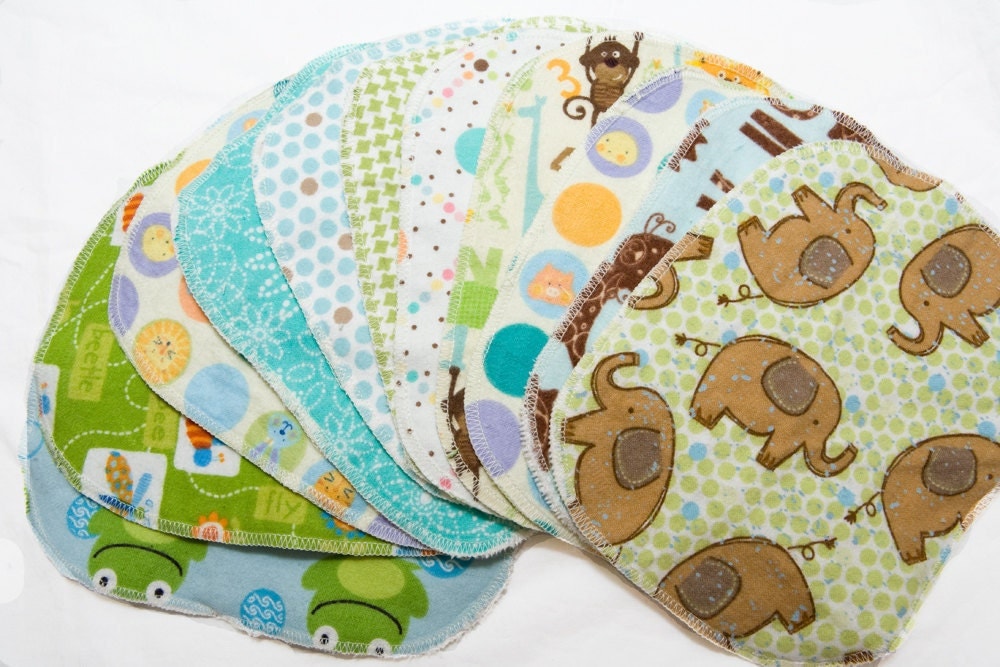 This week
Sweet Bo
bbins
Cloth Wipes
were nominated for Cloth Diaper Accessory of 2011 by
Padded Tush Stats
. As a WHAM, it's an honor to compete with some top national brands.
Sweet Bobbins
started out with $40 and a serger. I was a new stay at home Mom, bored out of my mind with an almost 2 year old. I had just left an office job and found my hands WAY too empty. My daughter was able to self play, which meant I was able to play too! I bought a serger for a few hundred dollars from a friend, and started serging. I found it relaxing and started aking wipes for our own use. It didn't take long to start selling them. We simply reinvested what we earned and here we are today.
Why do you like selling on Etsy?
I love Etsy.com for the unique variety of goods sold. A favorite feature of Etsy includes the ability for customers to request custom items from sellers. We are lovers of custom items! It's a great marketplace and we are surrounded by people who LOVE to create!
How long have you been sewing?
I was always around sewing growing up, but always refused to sew. Then, one day, a nephew was born into the family and I wanted to make something. That was about 7 years ago. I started out quilting. When my own daughter was born, I really began sewing with a friend. It was a time for me to relax on the weekends, unwind from work and make cute things for my baby girl. I pretty much taught myself how to sew via youtube.com. I still refer to youtube.com for sewing advice to this day.
What is your favorite thing to make at the moment?
I love making
Sweet Bobbins Cloth Wipes.
Sometimes I just get "an urge to serge" so I pick up a stack of "blanks" and start serging away. It's incredibly relaxing to me. I love that sewing is measurable work. At the end of the day, you can look back and say, "WOW, I made all of this!"
What are you passionate about?
I love day trips. I pour all of myself into Sweet Bobbins, family and volunteering. Sadly, that is as deep as my current passion travels: down winding roads, past mountain streams and cascading waterfalls, over one lane wooden suspension bridges and into private vineyards. I love Washington State and I plan to see every square inch of it, and to taste every local wine, coffee, cheese and ice cream that I can find on my iPhone aps. Oh, and I really love coffee.
What is your favorite thing in your shop at the moment?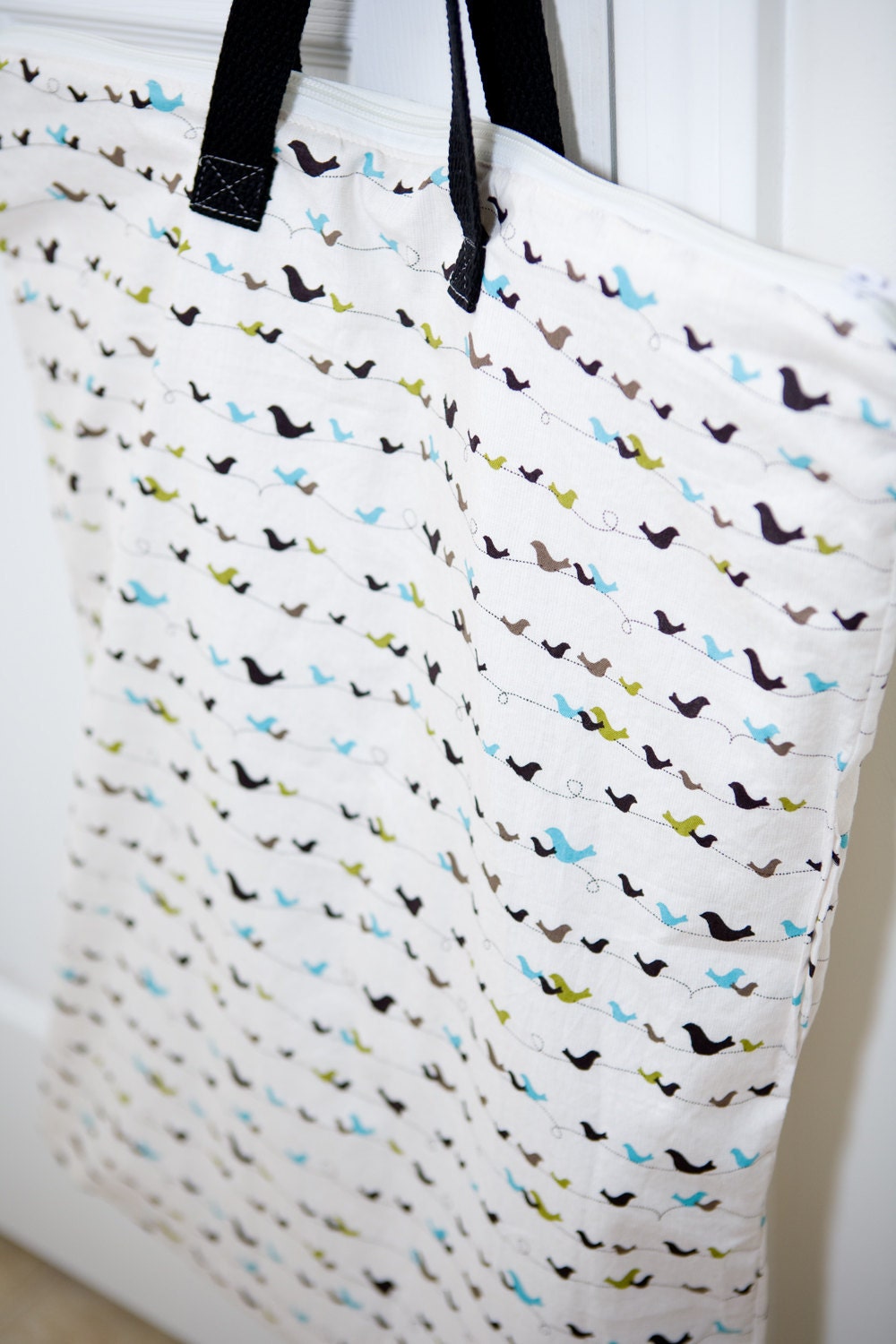 Our
XL Hanging Wet
B
ags
are my favorite item in the shop at the moment. For the mom not wanting to use a diaper pail, this is another option. It just hangs from a door knob or hook and is incredibly cute! These XL wet bags started out as a custom item. And we still offer them as custom items today! These are great for vacations, nurseries, sports gear, beach totes, hospital stays, and so much more! And they are seam sealed, which is a pro to any wet bag! Practical meets cute in this product!
Who is your inspiration?

Several people have inspired me. My Aunt Aline, who is also Rene's mother, made custom wedding gowns when I was young. I used to sit in her sewing room looking at all the lovely lace trimmings and trying on Crinoline petticoats. Aline and Rene always amazed me with their creations. My Great Grandmother, Mamie was also a knitter and seamstress extraordinaire. In the 1940's, she worked at
Nelson's knitting Factory
making red heel stockings and sock monkeys. I inherited her knitting needles, buttons, and crochet hooks a few years ago. Today at
Sweet Bobbins
Seattle, the most important, beloved and indispensible tool we have is Great Grandma's crochet hook.
Why is cloth diapering important to you?
We toyed with the idea of cloth diapering with our daughter. We tried it, but weren't convinced. Then we did some simple math. When she was 6 months old, we switched to cloth and NEVER went back! We used one size pocket diapers just for the savings for a longer fit.
For us, cloth diapering meant saving money on diapers and the trash bill. Our water bill NEVER went up from the additional 2 loads per week. We saw cloth diapering as a win-win situation. It helped our environment, our finances and our daughter's skin. It also is what started
Sweet Bobbins
. I don't have many friends who cloth diaper, but they always say, "Wow! Had I known there were products like these, I would have considered it more!" Cute, modern products and an increase in education are bringing Cloth Diapering into the mainstream again. And we are excited to be part of that!
By: Angela Inman, Sweet Bobbins
Etsy Shop:
http://www.%20sweetbobbins.etsy.com/
Facebook:
www.facebook.com/SweetBobbins
Blog:
http://www.sweetbobbins.com/
Instagram: Sweet Bobbins
Twitter:
@Sweetbobbins