We have a great giveaway this month from Easy On The Tush and Sazzy Baby Assets!
There is a One Size AIO (All In One) Blue Eggs Cloth Diaper from
Easy on the Tush
.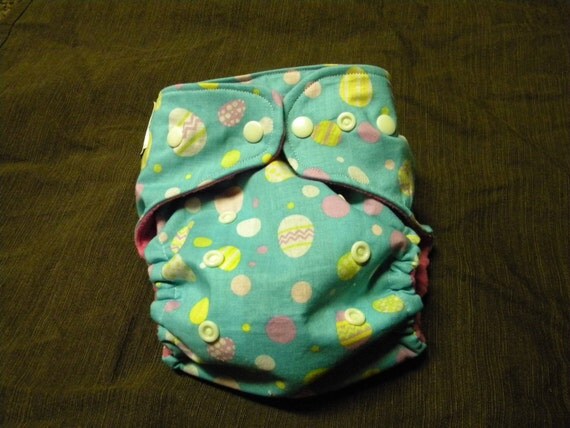 This is a one size cloth diaper. The outside is 100% Cotton light blue with Easter eggs design. It is lined with purple PUL. The inside lining is 100% polyester pink micro fleece. It is finished with ivory snaps. Cross over option on the wings, and a 3 rise setting. Will fit babies approximately 8 lbs - 40 lbs.
The insert is 3 layers of micro fiber wrapped in micro fleece. It is sewn on to the micro fleece lining. This allows for the insert to dry quicker compared to a traditional AIO where the absorbent layer is sewn down and hidden.
Then we have a Sized Cloth Diaper Cover from Sazzy Baby Assets.
A Sazzy Baby Assets Sized Cloth Diaper Cover is made with cute 100% cotton outer, waterproof pul inner, elastic, hook and loop closure.
This cover is so easy to work with. We love to call it the modern day version of the plastic pant with out having to learn diaper origami! No pins required. I use these with either a flat or a prefold folded on the inside of the diaper cover. I wash my diaper covers in a normal wash with babies clothes and hang dry and sun when needed.
a Rafflecopter giveaway