MEET THE TEAM

This edition of "Meet the Team" is with shop owner Denise F. of
RebelCloth
. She is another of the newest members to our team and we are thrilled to have her and me, even more so, to be the first to get to know about her!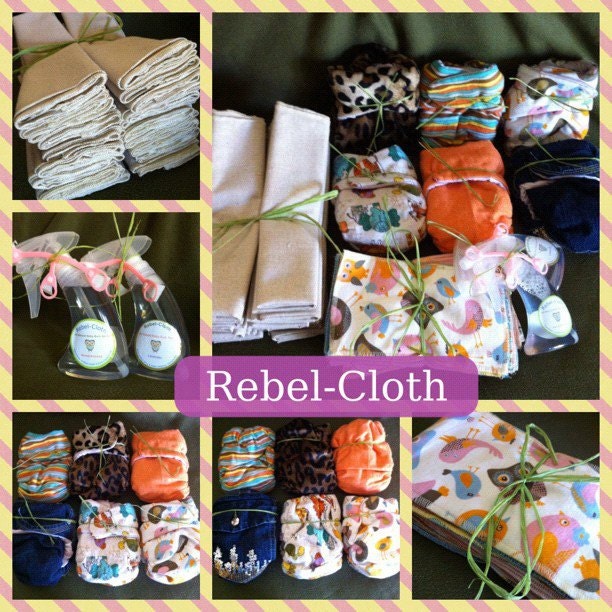 How did you come up with the name for your shop?
The way I make these diapers is unlike any available - They are not typical and I refused to use the "normal" kind, a bit of rebellion! When I would talk with my friends about it (before my business) I would say how I was going to cloth diaper Nixon, MY WAY - the REBEL way. So, when it was time to name my shop/business I thought it was perfect.
How long have you been making/selling cloth diapers?
I've been making them for about a year. I started when I was pregnant with Nixon (our third son) but I didn't start to sell them until June of last year.
How long have you been sewing?
About 7 years - but that was just mostly baby blankets as shower-gifts. I've only recently become an avid sewer.


What is your favorite thing to make right now?Why?
The RC snapped waterproof cover! I love how they look when I'm done with them. At first I was leery of the snap (only used snappi/boingo) but my customers have swayed me!! Plus, the snaps ON the cover just make it look complete.
Favorite materials to use?
My ultimate favorite materials are hand-me-downs! I LOVE making upcycled t-shirt diapers/covers; what a perfect way to showcase my 'green' belief. I have three boys - so we have quite a bit of cool hand-me-down shirts. Family & friends have supplied me with lots of shirts/pants to convert.
Why did you choose cloth diapers and what advice do you give to those considering using them?
1. Environment. I was astonished at the knowledge I gained when I was considering cd. Disposables are so incredibly bad for our Earth. I already used them with our first two children, no way was I going to contribute to that mess again.
2. Cost. The average cost to use disposables/wipes on ONE baby is $2,000. I was able to make my "stash" for less than $75. When I realized that and how simple it was to make them was when I chose to sell them. I wanted to share with other parents the EASE of cloth diapering. RC diapers can be thrown in with your regular wash, there are NO special instructions/detergents. There is no "stuffing" diapers after they have been washed. And the main RC plus is my covers are WATERPROOF. This means baby can wear just ONE cover ALL DAY LONG. All you change is the soiled insert!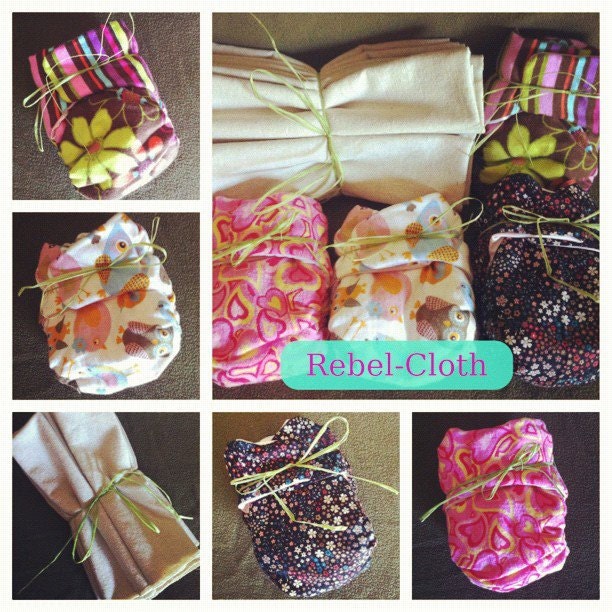 What made you decide to sell on Etsy and join the Etsy Cloth Diaper Team?
I knew Etsy would allow me to get WWW exposure and I knew it would be a great launch pad for my business. I wanted to join the team because I knew parents would be searching your team and not necessarily RC, this way they know we are together and they will have confidence in their purchase.
Do you have any specials or sales now or coming up?
I often have promo codes for upcoming holidays. I always make them known on my facebook/instagram pages. Also, if you order through facebook via the link to "my etsy shop" you will automatically get 10% off.
Where can we find your items? Do you have a Facebook page?
My etsy shop:
www.etsy.com/shop/RebelCloth
My facebook page:
www.facebook.com/rebelclothnow
Instagram Account: @3Trolls (personal photos plus RC)
Twitter: @rebelclothnow
I absolutely LOVE doing custom orders!! For example, I'm in the process of a whole system for TRIPLETS. Mom knows they will be too small for the 'average one-size' so she asked me to make them smaller. I made 12 snapped covers small enough for 3lb babies! They are adorable. She wanted 8 girl print, 4 boy - so I just went shopping and picked out 12 different adorable prints and went to work! I love that. She is getting: 12 snapped covers, 90 inserts, 48 cloth wipes & 2 12oz. bottles of my lavender baby-bum spray. These triplets are going to have the cutest little tooshies around. I can't wait to see pics. When people order systems instead of a la cart, I always discount it. When people want something custom I ask they convo me and we work something out. It's awesome.