Good morning and welcome to the newest installment of Meet the Team! Today we're chatting with Omee of Omee's Boutique. Pull up a chair and join us as we chat...

My name is Omee.
I am a stay at home mom to a beautiful baby girl.
She is now an year old.
Bubu is her pet name. She is the sweetest, happiest, most beautiful baby I've ever seen (and I'm not biased whatsoever).
I live in Toronto, Canada.
Where did you get the name for your shop?
My etsy shop is "Omee's Boutique". Omee in Arabic means 'mother'. Therefore my shop means "A Mom's Boutique". I carry all things cute and functional for woman and babies :)
How long have you been in business?
I have been on etsy since Feb 2012. And I have also been selling through local craft shows, consignment shop etc.
How did you get the idea for your products/business?
How long have you been sewing?
I have been sewing since I was a teen. My mother taught me to sew. Since I had my baby the last year, I have been sewing a lot for my baby, and my friends and family
encouraged me to start my own business on etsy. I can't survive without something to
keep my hands busy, so I sew when I can, when my baby is napping and my husband is busy at work.
Please share what is unique about your products.
I love what I do. Therefore I make each and every product with the utmost care and attention to detail.
I love beautiful fabrics and use what little free time I have to create items that can possibly become a loved and worn best friend.
My aim is to provide mothers alike the choice of funky, one of a kind accessories for themselves and their cute babies.
What are your most popular products, and why are they so appealing?
I keep introducing new items to my shop all the time. Currently my mama pads, cloth wipes and bibs are the top selling products. And I have had a very good feedback with all my customers so far! :)
What have you found most challenging about running your own business?
Has anything been easier than you expected? More difficult?
I am a stay at home mom. I find affordable and effective a

dvertising

of my business very challenging currently.
Why do you like selling on Etsy?
Etsy is a great platform. I LOVE it. It has given me the freedom to work from home, and run a business I am in love with. I can work at my own pace, in my own home, according to my own rules.
What is your favorite thing to make at the moment?
I am currently loving making blankets for my customers. My blankets are large and made with a lot of care. Therefore they last long.
Why is cloth diapering important to you?
I have been cloth diapering my baby since she was 3 months old. I still use disposable diapers for night time and when I am out and about. During the rest of the time I stick to using cloth diapers. And I have been nothing but happy with them. They are so comfortable for my baby and save me a lot of money.
What is the kind of diaper you like the best at home?
What is your favorite cloth diapering memory?
I had thought of cloth diapering my baby even before my baby was born. I used to research a lot when I was pregnant with her. When I actually began to use cloth diapers, and after a month of using them, when I got into a routine, I was so proud and happy that I am actually doing what I had planned to. And it was so easy!
Who or what is your inspiration?
Everybody and everything inspires me, my baby, my family, friends, nature..!
Do you have anything new going on now, or upcoming, such as new products or promotions?
I have recently introduced drawstring lunch tote bags. An eco-friendly alternative
to those disposable brown paper or plastic bags. Plus they are so
cute that they will make your lunch pals go green and inspire you to pack your own healthy meals from home everyday! My customers LOVE them!
Is there anything else you'd like to share?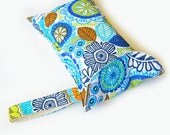 Sister's Magazine, a leading UK magazine, has featured Omee's Boutique in their October 2012 issue. I am so excited and thrilled about it!
I create all items in very small quantities, and keep adding new stuff all the time. So, if you see something you like, scoop it up. I ship worldwide so please email me if you are interested in any of the products, and I can get an exact shipping quote for you. I also LOVE special requests, so if there is an item or certain colour or design you have in mind, I would love to make it for you! If you are buying something as a gift, I can include a card for free, just let me know what you would like it to say!
I also do wholesale orders and offer discounts Please don't hesitate to contact me with any questions at all.
Where can we find your products?
If you'd like to check out the current selection at Omee's Boutique, please click on the following links:
Thank you for looking at my shop, annew stuff all the timed continue to support handmade items from small businesses like mine!
♥
Omee Bubu
Thanks Omee, we've enjoyed our time with you.
Everyone, be sure to visit Omee's Etsy store before you get on with your day - it'll be worth your time!