While woolies are all-season clothing in our household, I contend that fall and winter is when we can go totally overboard with the woolies. It is truly the season for longies or even soakers with cute leggings!
Choosing woolies can sometimes be overwhelming for a wool newbie, so here's my primer on the different types of wool, and basics on how to wash, dry and lanolize your cloth diapering wool.
BASICS
:

Wool makes an excellent cloth diaper cover – it's breathable and thermal, keeps your baby comfortably warm while allowing the bum to breathe (reduces diaper rash). You can find wool cloth diaper covers in the "

wrap

" style (e.g. with snaps or Velcro closures), pull-on style covers ("

soakers

" – they look like wool underwear), or wool clothing that doubles as a cloth diaper cover (

longies

, shorties, skirties, etc). The basic types of wool include recycled (upcycled) wool, knitted or crocheted wool, and wool interlock. They are all wonderful (yes, I have tried it all!), and mostly it's a matter of choosing something you like the look and feel of.


Recycled wool (upcycled wool)
– woolies made from recycled sweaters. Often times, recycled wool is felted prior to cutting and sewing to give it a little more thickness (and pre-felted woolies can often be machine washed on cold/gentle when I'm lazy, which is happening more and more these days!). Recycled wool is typically the most economical type of wool, and is a great way to try wool without spending a lot. You can also find some really unique materials, such as luxury wool blends (wool/cashmere/angora) or beautiful stripes, argyle, and cable patterns. Recycled wool can vary in terms of wool content, thickness, and softness, so be sure to ask the maker if you have any questions!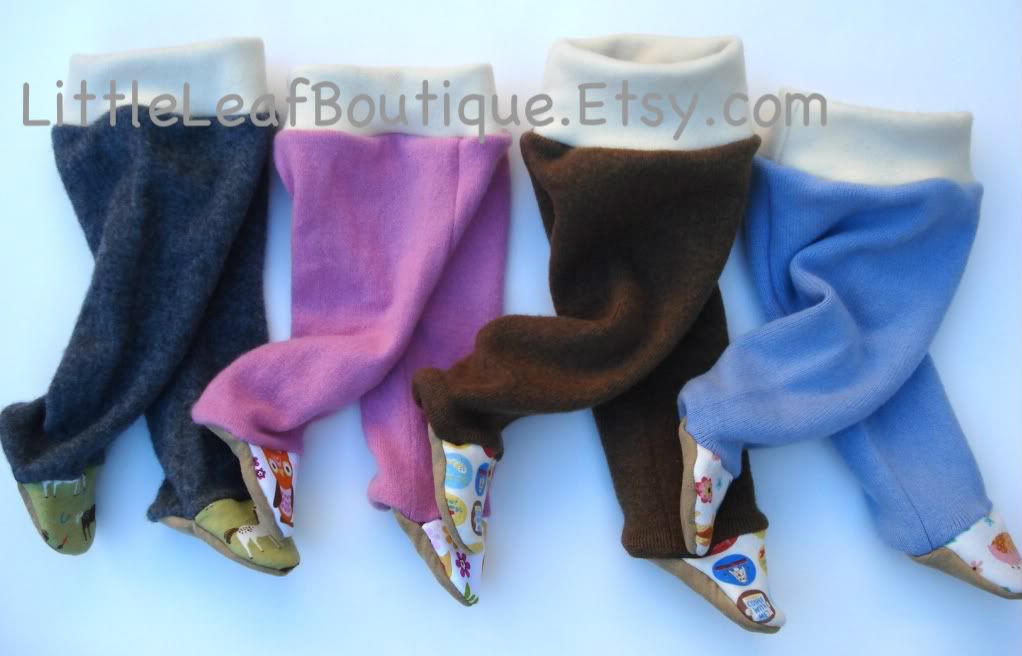 Knitted or crocheted wool
– woolies made from hand-knit or hand-crocheted yarn. Cloth diapering woolies are typically made from 100% wool yarn (some makers can use superwash wool yarn, but the superwash coating on the yarn makes it less effective as a moisture barrier). Wool yarns can be solid colors (which can be used to make stripes and monster faces, etc), or multi-colored ("variegated yarn", and a specific color scheme is called a "colorway"). The pricing on knitted/crocheted woolies can vary widely, as a lot of it depends on the cost of yarn (there are some cheaper yarns, and then there are the more expensive hand-painted yarns), as well as the time involved in creating these woolies. Some knitted/crocheted woolies can be machine-washed on gentle (for the sturdier yarn bases – cestari, mountain meadow, blackberry ridge merino, etc), but most people recommend hand washing. The texture of the yarn can vary, so if you are a newbie, ask the maker about what the yarn feels like!

Wool interlock - this is a type of "interlocked" fabric that is typically pre-felted and then cut and sewn. Wool interlock is usually dyed solid colors, but I have seen some tie-dyed or LWI dyed varieties too. The wool interlock most often used for diapering woolies is blended with a small amount of Lycra to help it retain its stretch even after felting. Wool interlock can typically be machine-washed (the more felted ones can be machine washed on warm/regular, but it's safest to wash on the gentle setting).
Washing your wool.
Ok, so it's probably obvious from the previous section that I do machine-wash a lot of my wool (at least, the recycled and interlock wool). I machine-wash with other clothes on warm/gentle or cold/gentle. If I'm feeling conscientious, I'll throw it into a mesh lingerie bag.

How often do I wash?
Only when it gets dirty! For indoor woolies, I probably wash maybe once a month, and that's with a messy toddler. For play woolies, I will wash more often, like every 1-2 wears (I stick with the machine-washable ones for play, but you can also hand wash play woolies too)

How often do I lanolize?
Maybe once every 6 weeks or so. I occasionally use a lanolin spray to keep it refreshed.

For hand-washing, here's what I recommend:

1. Soak the woolie in tepid or warm water. Make sure it is fully wet.
2. Add wool wash (or use a wool wash bar and suds it in your hands, pressing the suds into the wool). Swish it around but don't agitate like crazy. You can spot clean with the wool wash, too – really, it's just like hand washing any other kind of fabric!
3. Soak 15 minutes, then squeeze out the water, spin out in washer, lay flat to dry.
If the wool is really dirty, I often rinse it out first, and then wash as normal.

For lanolizing (make sure your wool is clean first):
1. Turn your woolie inside-out. Soak your woolie in tepid water. Make sure it absorbs water completely.
2. In a separate container, take a dab of 100% pure lanolin, dissolved in hot water with a drop of wool wash (I use Eucalan) or baby shampoo. Dissolve it really well (mix or shake), then add this to a basin where your wool item is soaking.
3. Soak for 15-30 minutes. Squeeze out the water, roll in a towel (or spin in the washer) and lay flat to dry.

Have a wonderful wooly day!