Today we are featuring a very stylish clutch wet bag from
Bright Rose Creations
. As you can see by the picture, this is not your ordinary wet bag. I was talking with Sharon, shop owner, about her design. She said, "I was basically in the mood for something girly, so I made a girly wet bag!". The fabric rose, while cute she knew was not practical with the amount of washings a wet bag goes through, so she made it to snap off for washing! It also has a nice strap for hanging dry.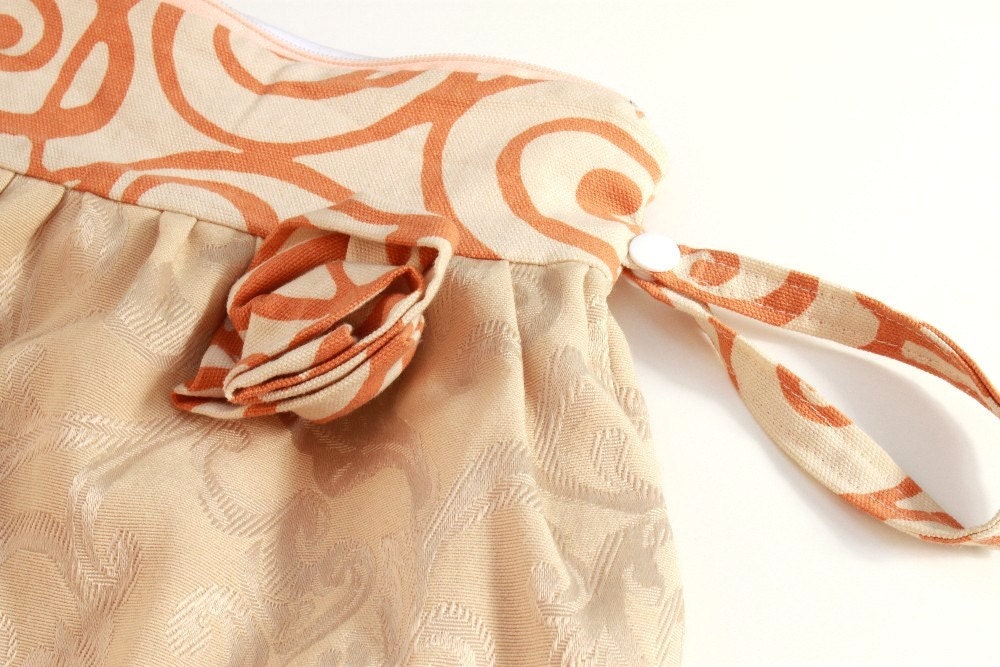 Sharon has been making cloth diapers and supplies for about two years, and selling on Etsy for a little over a year. I was intrigued by her name and asked her how she came up with it. Here is her reply, "I am always happiest to create and paint in "Bright" light. On sunny days, I just want to paint or sew. "Rose" is my middle name, and also my favorite flower. And "Creations", because there are so many things that I like to create. I choose to make things that I really enjoy, and that I find useful for myself, my family, or my pets. I create a wide variety of items, using different crafting modalities - sewing, handknitting, painting. Creations is the catch all term for all of my creative endeavors."
BrightRose Creations
also makes custom dog diapers! She has made diapers for 7 pound dogs, and 80 pound dogs! Each one is custom fit.
Sharon has graciously agreed to giveaway a set of 6 washable wipes and a tote bag this week. Simply follow the directions below for your chance to win these beautiful and useful products from BrightRose Creations.
2 Required entries:
-Follow this blog, etsyclothdiapers.blogspot.com, via Google friend connect. If you are already a follower, just leave a comment saying you already follow. Otherwise, leave a comment saying you are a new follower.
-Visit BrightRose Creations shop; come back here and leave a comment about your favorite item.
Additional optional entries (leave a separate comment for EACH of the following that apply)(be sure that you are signed in or leave a way to contact you in each comment):
- Like
BrightRoseCreations on Facebook
- Like the
Etsy Cloth Diaper team on Facebook
- Follow the Etsy Cloth Diaper team on Twitter
- Tweet about the giveaway (limit one per day) - be sure to use @etsyclothdiaper in your tweet
-Post about the giveaway on your own blog.
Giveaway closes at 11:59pm EST on November 2nd.
Winner will be announced on this blog on Thursday Oct. 3rd.
A random blog comment number will be selected using random.org. You MUST comment on this blog post to be entered, and have contact info in your profile. Each entry entry must be its own comment. If you combine entries into one comment, it will only count as one entry. Winning entries will be validated, and you MUST do the required entry to have any additional entries be valid. Thank you for entering!